Top 10 unusual eateries in Utah
With bright orange desert, spectacular natural structures, exciting activities and incredible National Parks, Utah already paints itself as a completely unique and fascinating destination. Add unusual eateries to the mix and you've got yourself a ticket to a once-in-a-lifetime experience you'll struggle to find elsewhere.
From gourmet campfire cuisine and innovative meat dishes, to legendary comfort food and secluded log cabin restaurants, there's no doubt you'll find yourself on a culinary journey unlike any other. Here are our top 10 unusual restaurants to try during your trip to Utah – we're certain you won't be disappointed.
#10
Campfire Lounge
Where: 837 E 2100 S, Salt Lake City.
The scene: Pack your guitar and head over to this funky restaurant in downtown Salt Lake City, serving gourmet campfire cuisine to city dwellers. The idea is simple: all of the fun and romance of traditional outdoor food, without having to sleep in a tent afterwards.
Order this: Campfire trash plate - a lotta goodies in one: eggs, cheese, fries or tots, chopped sirloin, brat or hot dog, topped with chilli or country gravy.
#9
Prairie Schooner Steak House
Where: 445 Park Blvd, Ogden.

The scene: You can't come to Utah and not experience a taste of the pioneer history of the West. Here guests can dine 'under the stars' in wagons alongside an open prairie fire whilst enjoying a hearty steak dish.
Order this: One of the scrumptious hand-cut steaks.
#8
Cafe Diablo
Where: 599 Main Street, Torrey.
The scene: Just chew on this for a minute – 'rattlesnake cakes'. According to the owners of Cafe Diablo, perched amid the red rocks of Torrey, they're just like crab cakes, but with more bite. If that doesn't tempt you, the view from Cafe Diablo's patio, overlooking Capitol Reef National Park, is spectacular.
Order this: Free range rattlesnake cakes, served with pistachios and ancho-rosemary aioli.
#7
The Roof Restaurant
Where: 15 E S Temple, Salt Lake City.
The scene: Buffet style is the dining experience on offer at The Roof Restaurant, but it will be the incredible birds-eye-view of Temple Square that will stick with you, showing off the temple and pristine grounds in all its glory!
Order this: Everything… it's a buffet!
#6
The Copper Onion
Where: 111 E. Broadway, Suite 170,Salt Lake City.
The scene: One of the most forward-thinking restaurants in the state, The Copper Onion is famed for its experimental meat menu, with dishes including Snake River beef served over homemade pappardelle, with a creme fraiche, mushroom and chive sauce. Nothing goes to waste here either: the bone marrow will have even the most timid of eaters licking their fingers.
Order this: Wagyu bone marrow, with parsley salad.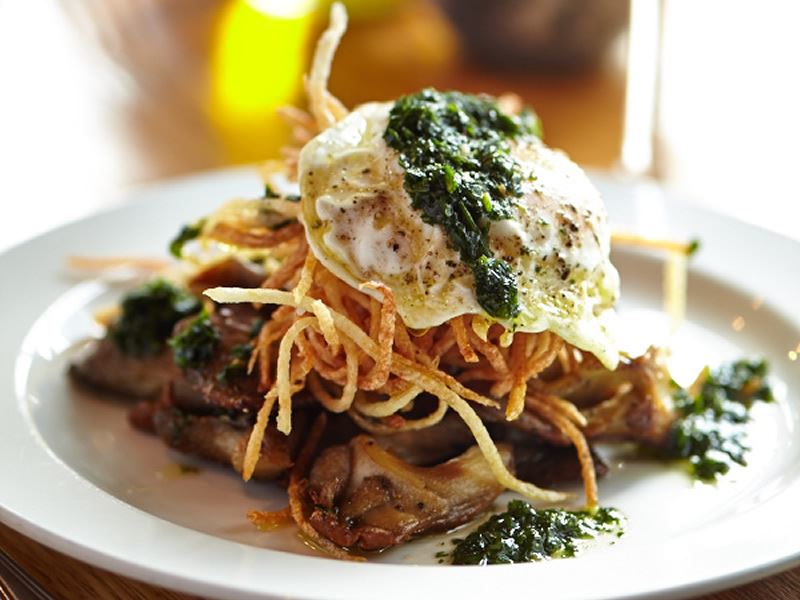 #5
Communal Restaurant
Where: 102 N. University Ave, Provo.
The scene: At Communal - a family, farm-to-fork style restaurant - they believe that good food should be shared. As a result, when you arrive you'll be seated at a long table with a bunch of complete strangers. Although presumably they won't be strangers for long, once the locally brewed Wasatch beers come out…
Order this: The phone number of the person next to you.
#4
Log Haven Restaurant
Where: 6451 E. Millcreek Canyon Road, Wasatch Forest.
The scene: Talk about getting away from it all. Log Haven is, as the name suggests, an enormous log cabin (or 'log mansion') in the middle of Wasatch National Forest. Built at the base of a cliff, you'll eat from the award-winning fine dining menu to the sound of the thundering waterfall outside. Like dining in a Timotei commercial.
Order this: Korean chicken lollipops, with sweet and spicy gochujang glaze.
#3
Ruth's Diner
Where: 4160 Emigration Emigration Canyon Road, Salt Lake City
The scene: The eponymous Ruth was a Utahn legend - a cabaret singer turned chef who could 'swear like a sailor and smoke like a chimney.' Her restaurant - which she opened in a derelict railway carriage in 1949 - is still going strong, with people travelling from miles around for the famous comfort food.
Order this: Grandma Claire's mac and cheese, breaded, deep-fried and served with marinara sauce.
#2
Hell's Backbone Grill
Where: No. 20 North Highway 12, Boulder.
The scene: Pretty much the furthest from Hell you'll find, this is a pretty restaurant run on Buddhist principles. Think sustainability, social responsibility and community, served with a smile. Then think delicious organic food grown a few metres from where you're eating it. There's even a tractor parked outside!
Order this: Spicy cow'gal chipotle meat loaf.
#1
Sego
Where: 190 N, 300 W, Kanab.
The scene: Located in Kanab, or 'Little Hollywood', you will feel like you are dining with the stars at Sego. A contemporary restaurant which serves new American creations, prepared by 'Chef Shon' renowned in the area for his work at Amangiri luxury resort nearby.
Order this: Charcuterie if not for the cheese, then for the local Crostini.
Find your perfect holiday
Talk to our friendly team
01342 331798
Call us 9am-7pm Mon-Fri / 9am-5pm Sat-Sun