Top 10 fine dining restaurants in Nashville
Although entire restaurants dedicated to crunchy golden fried chicken and barbecue dishes have reigned supreme across Nashville for years, the tables are slowly beginning to turn as hungry diners venture out in search of a more upscale experience. To cater for the new trend, fine dining restaurants are opening up all over the city serving gourmet eats such as big juicy lobsters and the finest cuts of steak money can buy in dazzling surroundings worthy of such exceptional cuisine.
To ensure you have a first-rate experience you'll want to relive time and time again, we've put together our picks of the top 10 fine dining restaurants in Nashville, Tennessee.
#10
The Melting Pot
Where: 166 2nd Avenue North, Suite A
The scene: One of the best places in the city for a romantic meal with a twist, The Melting Pot specialises in delicious, comforting fondue. The classic cheese fondue starter, which you can customise with your choice of cheeses, beers and extras, is prepared tableside and balanced with a fresh and crisp salad, drizzled with a house-made dressing. Then it's onto the main course which takes the form of superb quality meats, poultry and fish, such as premium filet mignon, honey-orange duck breast and sesame-crusted ahi tuna. If you've still got room for more fondue fun, treat yourself to a silky smooth chocolate fondue dessert, served with a wealth of decadent dippers, including fresh strawberries, brownies, blondies, bananas, pineapple, pound cake and marshmallows. There's a huge drinks menu available with a plethora of craft beers, speciality cocktails, sangrias and wines. But if you really want that special added touch, opt for one of the four-course wine flights to pair with your meal.
Signature dish: Wisconsin cheddar fondue, made from aged cheddar and Emmental cheese melted with lager, garlic and spices.
#9
Stoney River
Where: 3015 West End Avenue
The scene: An upscale steakhouse with a flair for hand-cut steaks and gourmet main courses, Stoney River offers a sophisticated atmosphere and professional service ideal for celebrating an extra-special occasion. The diverse protein-heavy menu features classics such as New York strip steak, ribeye steak and prime rib of beef, as well as more innovative coffee-cured filet mignon, trio of filet medallions and the signature cut Stoney river legendary filet. If you're not on the mood for a steak, there are plenty of delicious alternatives, ranging from fresh fish and seafood to superb quality poultry and even vegetarian options, all of which are served with classic steakhouse sides. The tantalising dessert menu, laden with delights such as chocolate fudge cake, white chocolate cheesecake and crème brulee, never fails to disappoint, while the carefully-selected wine list, with labels from all over the world, has been crafted to complement the food perfectly.
Signature dish: Famous steak and biscuits – a seared tenderloin on top of homemade biscuits served with chips.
#8
Jeff Ruby's Steakhouse
Where: 300 4th Avenue North
The scene: The ideal choice when each person in your group wants something different to eat, Jeff Ruby's Steakhouse serves up an all-encompassing menu comprised of a little bit of everything. From sushi, seafood, fish and salads to burgers, pork, poultry and USDA prime steaks (served with all the classic steakhouse toppings, from blue cheese crumbles to lobster tails) the posh Downtown outpost has got every craving covered. The side dishes are just as enticing as the mains, and range from the simple baked potato up to the gourmet baked mac & cheese, made with six imported varieties of melted cheese. The stylish environs which boast a cool backlit bar, modern yet classy dining room and spacious patio with marble tables makes this restaurant suitable for any occasion, while the nightly live entertainment guarantees a lively, buzzing atmosphere on every visit.
Signature dish: The Jeff Ruby double burger – two Ruby-seasoned patties topped with melted American cheese, Nueske's bacon, thickly-sliced tomato, sweet onion, iceberg lettuce and Duke's mayonnaise, served with Boardwalk fries.
#7
Rolf and Daughters
Where: 700 Taylor Street
The scene: Home to some of the finest New American cuisine in Nashville, Rolf and Daughters is known for its irresistible selection of shareable small plates, rustic main courses and comforting pasta dishes. Despite being set inside a historic building with homespun décor highlighted by wood panelling, bare lightbulbs and chopping board presentation, this trendy restaurant has a contemporary, dynamic feel about it that'll leave you hooked from the minute you walk in. The complex, epicurean menu starts simple with house-baked sourdough bread served with taste bud-tingling seaweed butter and transcends all the way up to superior quality beef short rib served with grains, spring onions, squash and sorrel, designed to be shared between two. Much more involved than you'd expect from your traditional Italian restaurant, each pasta dish is more remarkable than the last, topped with all kinds of gourmet ingredients, including heritage pork ragout, heirloom tomatoes and cultured butter.
Signature dish: Squid ink paccheri pasta with octopus, chilli, basil and breadcrumbs.
#6
Bob's Steak & Chop House
Where: 250 5th Avenue South
The scene: Ideally located in the heart of downtown Nashville, Bob's Steak & Chop House brings generous Texas-sized portions to Music City. The nationally-renowned steakhouse prides itself on using only the very best corn-fed prime beef from the Midwest which is delicately prepared in such a wonderful way that you'll want to lick your plate clean as soon as no one's looking. Incredible cuts of meat, giant prawns, fabulous salads and truly indulgent desserts are what you'll find gracing their steakhouse menu, alongside classic side dishes (the lobster mac & cheese is amazing!) and an extensive international wine offering. The classic steakhouse décor with deep red wood panelling, plush leather seats and low romantic lighting make this restaurant the perfect setting for an intimate date night, while the chic and fully-stocked bar provide the ideal spot to grab a signature martini before heading off for a night on the town.
Signature dish: Prime 'Cote de boeuf' bone-in ribeye served with a glazed carrot and your choice of a baked potato, smashed potatoes or skillet-fried sliced potatoes topped with sautéed onions and peppercorn gravy.
#5
The Catbird Seat
Where: 1711 Division Street
The scene: More of a kitchen than a dining room, The Catbird Seat gives you the chance to place yourself in the centre of all the action and watch the chefs work their magic as they prepare intricate small plates in front of your eyes. The stainless steel and dark wooden space is filled with 22 bar seats surrounding a U-shaped kitchen that buzzes with the fast-paced culinary team crafting a multi-course New American tasting menu enchant every single one of your taste buds. To take full advantage of fresh, seasonal produce and to allow the chefs to indulge in their creative whimsies, dishes change almost constantly. But to give you an idea of the gourmet hedonisms you can expect to enjoy, past menu items have included Bearcreek Farm beef inside an umami crust with smoked tofu puree and red miso pasta with sea urchin butter, Maine lobster and toasted nori.
Signature dish: Due to the constant changing of the menu, there's no signature dish.
#4
M Restaurant
Where: 209 10th Avenue South Suite
The scene: Flaunting floor-to-ceiling windows ideal for admiring the busy Nashville streets, comfy designer-esque armchairs and crisp linen tablecloths, M Restaurant specialises in approachable fine dining that everyone can enjoy. The incredibly tempting menu highlights the best of southern American cuisine, with must-try classics such as pan-seared salmon and short ribs alongside more fresh and modern dishes, including watermelon pecan salad and pork ring-crusted scallops. You'll find all the traditional southern starters, too, like fried green tomatoes and chicken and waffles, alongside drool-worthy desserts such as triple chocolate raspberry cheesecake and gooey butter cake that you simply won't be able to pass up. To accompany your southern feast, there's a generous selection of international wines available by the glass and bottle, as well as choice of speciality cocktails with a distinct southern influence.
Signature dish: Creole shrimp and grits – Jumbo Gulf prawns served with sweet onions and peppers, Andouille sausage and South Carolina stone-ground grits, drizzled with cream.
#3
5th and Taylor
Where: 1411 5th Avenue North
The scene: Offering up an exciting modern spin on American classics, 5th and Taylor is a New American restaurant that boasts the truly spectacular setting of a fully renovated warehouse. With soaring vaulted ceilings, graffiti-style contemporary artwork, an intriguing stone sculpture centrepiece and a trendy atmosphere that attracts hungry diners from all over the city, this shabby chic restaurant is fine dining with attitude. Filled with a medley of out-of-the-ordinary dishes such as duck wings with truffle-honey, bison meatloaf with pickled rhubarb and a spectacular mixed grill made up of venison, andouille sausage and duck confit, this really is the place to go when you want to try something totally new. If you prefer to err on the side of the more traditional, the menu also features a small selection of meats, including leg of lamb and beef filet, which are simply grilled and served with mashed potatoes. On warm evenings, the tree-dotted outdoor terrace with comfy patio furniture provides the ideal location to sip their signature cocktails while you nibble on a few starters.
Signature dish: Duck'am – duck served with blackberry, smoked cabbage and a red wine gravy.
#2
Kayne Prime
Where: 1103 McGavock Street
The scene: An artful fusion of old and new, Kayne Prime is both deeply rooted in the style of the traditional American steakhouse and committed to delivering modern farm-to-table cuisine. Most of the menu is dedicated to sublime steaks, which include the classic bone-in ribeye and the much-praised wagyu filet mignon. But just in case steaks so incredible they melt in your mouth aren't enough of a gourmet experience for you, Kayne Prime gives you the chance to enhance your meal with a series of signature toppings ranging from a simple salsa verde to a decadent bone marrow butter and generous serving of foie gras. The remainder of the alluring menu highlights remarkably creative starters (such as the house-made bacon with maple candy floss), as well as a great choice of fish, seafood, pork and poultry, all paired with classic steakhouse side dishes big enough to share.
Signature dish: Progression of NY stip – 3oz of UDSA prime steak, American wagyu and Australian wagyu, all served sous vide-style.
#1
Etch
Where: 303 Demonbreun Street
The scene: Creating a warm and inviting venue through its open kitchen and sleek, contemporary dining room, Etch is proof that Nashville's dining scene is moving toward a more sophisticated, cosmopolitan vibe. The eclectic menu is dominated by bold and intense flavour combinations that transform standard, everyday ingredients into fascinatingly original dishes, like seared duck breast with Tunisian-poached apricots, pork tenderloin with Korean-smoked tomatoes and lamb chops with a popped lentil and sour cherry salad. Despite the amazing main courses, the head chef's talents really shine through in her vegetable side dishes, which take the form of a crispy potato salad with chimichurri and roasted carrot enchilada with pumpkin seed pesto. Not wanting to distract from the celebration of flavours that fill every dish, the décor is kept clean and simple with a minimalist colour scheme, large light-welcoming windows and touches of greenery that reflect the freshness of the ingredients.
Signature dish: Roasted cauliflower served with truffled pea pesto, salted almonds, feta dip and red bell essence.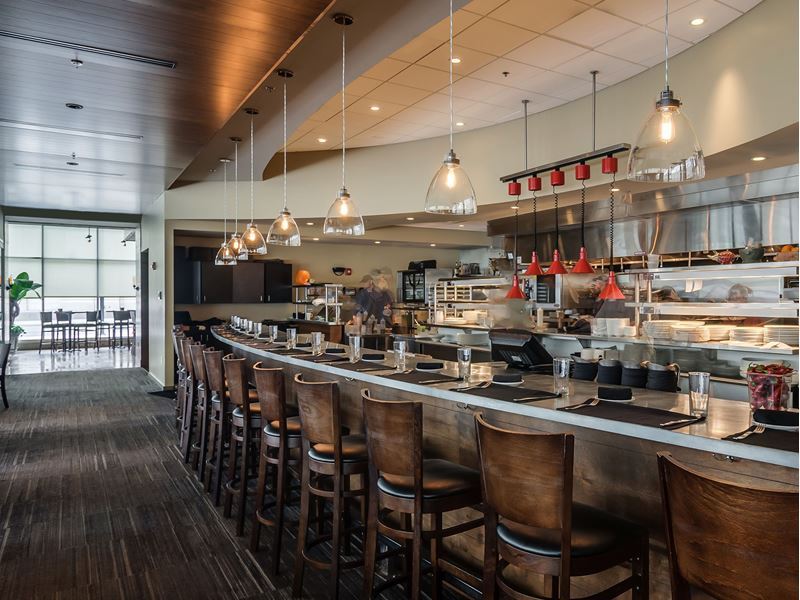 Best of the rest
To satisfy even the most insatiable appetites for magnificent fine dining, here are six more phenomenal restaurants in Nashville that didn't quite make the cut for the top ten.
The Palm
One of the longest-established upscale steakhouses in Nashville, the Palm was founded in New York City in 1926 and continues to deliver the gold standard of classic cuts while treating diners like royalty.
Old Hickory Steakhouse
Gaylord Opryland Resort's signature dining spot, the Old Hickory Steakhouse maintains its quality every year, serving an eclectic array of outstanding chops and delicious artisanal cheeses in classic steakhouse-style surroundings.
Husk
Set inside a beautiful 19th century mansion, Husk is a top-end restaurant that boasts marvellous southern fare bursting with flavour and influenced by the head chef's strong farm-to-fork mantra.
Midtown Café
The locals' favourite go-to spot for creative American cuisine, Midtown Café serves up an ample menu bursting with inventive takes on popular favourites in an art-lined dining room that provides a myriad of talking points.
Flemings Prime Steakhouse & Wine Bar
An upscale restaurant chain with steakhouse classics, Flemings Prime Steakhouse & Wine Bar features an exceptional menu of USDA prime steaks, market-fresh seafood and more than 100 wines available by the glass.
Margot Café & Bar
Boasting the unique location of a converted East End service station, Margot Café & Bar is known for its rustic French and Italian menu which changes daily and for being home to one of the best Sunday brunches in the city.
Find your perfect holiday
Talk to our friendly team
01342 331798
Call us 9am-7pm Mon-Fri / 9am-5pm Sat-Sun