Top 10 city breaks in America
What with the Great British Pound fairing well against the US Dollar and the eternal allure of the bright lights across the Pond, taking a city break in the USA is fast-becoming more popular than a European equivalent.
They speak the same language (sort of), excel in customer service and wouldn't dream of delivering a plate of something which wasn't piled at least a couple of inches high and that's just for brunch!
Aside from the grub and the people there are all the landmarks too which are essential for anyone considering spending a few days in the city. World-famous bridges, towers and statues adorn practically every corner which is not only a great means of getting orientated but also provides a ready-made sightseeing itinerary with not even a hint of an umbrella carrying tour guide.
Rainy days, especially during the winter months, can obviously be a bit of a chore however, thanks to America's cities fervour for art, culture and history there's always a museum or gallery around the block to ensure you get to spend your days happy and dry.
And what's better than a day spent strolling around an exhibition than finishing it off with a never-ending mug of coffee accompanied by a slice of cheesecake the size of a house brick?
Of course, after museums, coffee and cake then America's cities really come alive and if you've still got what it takes to kick up your heels and dance the night away then there's no finer range of live music venues, clubs and bars to help you do just that.
Whatever you're into: theatres, shopping, parks or aquariums, taking a city break in America will undoubtedly tick all the right boxes come rain or shine so what are you waiting for? Read our top 10 city breaks in America below and get ready for an awesome experience.
10. Boston, Massachusetts
This east coast bastion of culture provides a fabulous means of discovering more about America's quest for independence as well as exhibiting no end of art, architecture and theatrical performances. The Freedom Trail is a ready-made sightseeing route and takes in over two miles of red brick path which leads past 16 of the city's most notable landmarks, including: the site of the Boston Tea Party and the USS Constitution. Away from the history tour and Boston conjures up a superb range of restaurants and diners with everything from bagels and pizza to seafood and sushi giving you more than enough sustenance to continue on your travels.
More information and to book: Boston hotels
9. Savannah, Georgia
As Georgia's oldest city, Savannah is awash with historic architecture, monuments and old-fashioned town squares where passing a few moments tucking into yet another triple-layer deli sandwich is always a great way to start the day. Aside from the people watching potential, Savannah's 22 squares are indicative of the city's layout and getting around block by block couldn't be easier. Once you're orientated there's a wide range of things to see and do with botanical gardens, shopping malls and public parks providing more than enough alternatives to the historical landmarks. With a reputation for Southern hospitality and more than a leaning towards jazz, sailing and days spent down by the river, it's easy to see why Savannah is often up there as America's favourite city break destination and quite rightly so.
More information and to book: Savannah hotels
8. Charleston, South Carolina
Just north of Georgia in the state of South Carolina lies another of America's oldest cities, Charleston, and if you're looking for accolades then this coastal favourite cites being the most polite, hospitable and friendly amongst reasons to visit. Aside from the hospitable nature of its residents Charleston is also considered to be something of a cultural melting pot with all manner of art, music and cuisine encapsulating backgrounds as diverse as French to West African. Seafood is always on the menu and there's no better way to enjoy a stroll through Waterfront Park than with a take-away bag of devilled crab cakes or fried oysters. Known as a fervent supporter of religion as well as a passionate advocate of theatrical performances, Charleston is most certainly an excellent choice for USA city breakers who are looking for something a little bit special on the south east coast.
More information and to book: Charleston hotels
7. New Orleans, Louisiana
Mardi Gras, the Mississippi and all that jazz are commonly what draws the crowds to New Orleans and if you're looking for an American city break that will certainly tick all the fun boxes then right here is where you get your Deep South on. With the characterful architecture and heritage of the French Quarter to the boutique shopping and antique browsing potential of Magazine Street, New Orleans never disappoints and good times seem to appear on every bustling corner. Bars, cafés, nightclubs and slightly more seedy late night alternatives are everywhere and if you're looking for some authentic jazz and soul food then get ready for a huge helping of home-made Louisiana pie with all the trimmings.
More information and to book: New Orleans hotels
6. Chicago, Illinois
Pretty much directly north from New Orleans, located on the shores of Lake Michigan, is the home of the Cubs, the Bears and the original deep-filled pizza however, dig a little further and you'll find there's much more to Chicago than you may first expect. Starting with the layout and you'll quickly discover that as walkable cities go, Chicago is up there with the best of them. Not only that but you'll also find that looking up will become something of a habit as this is the home of some of America's tallest skyscrapers with the likes of the Hancock Centre and Trump Tower dominating the skyline. The Magnificent Mile, in particular, is one of the best places for sightseeing with no end of shops, restaurants and landmarks making for at least one or two days' worth of strolling options. Away from the city streets and the lakeside neighbourhoods (including Navy Pier) are ideal locales to hangout on a sunny day however, come the night and Chicago's notorious music and performing arts scene always takes centre stage.
More information and to book: Chicago hotels
5. Miami, Florida
If you're hoping to soak up some Florida sunshine whilst undertaking a city break in America then there's no better place to kick back and relax than Miami. The home of art-deco architecture, marine parks and more Cuban influences than you can click your heels to; this is just one of those cities that screams open shirts and flip-flops with just the tiniest temptation to roll up your jacket sleeves as you head out for a night on the tiles. The tropical climate always adds to the appeal of Miami and there are plenty of parks, gardens and marinas to soak up some rays with the coral reefs of Biscayne Bay always proving to be ever-popular with the mask, snorkel and flippers brigade. A blend of Caribbean and Latin flavours make for some superb local fare and after a good day spent appreciating the art, music and architecture of Miami it's time to dip your toe into the world of neon lights and cocktails with South Beach always a great place to start and finish an evening out.
More information and to book: Miami hotels
4. Las Vegas, Nevada
There are city breaks in the USA and then there's Vegas and if you're hankering for bright lights, show tunes and more poker faces than a Lady Ga Ga gig then you always know where to head to first. Las Vegas is without doubt the gambling capital of the world and even the most careful of visitors will no doubt succumb to at least a little flutter whilst taking in the sights of Fremont Street and the world-famous Vegas' Strip. Major 'must sees' include: the fountains outside the Bellagio, the size of the Golden Nugget hotel and the light show experience on Fremont Street which includes a 1,500ft canopy featuring over 12 million LEDs. Away from the casinos and hotels there are lots of chances to get out and about with numerous parks, golf courses and desert excursions allowing you to see that there's more to Nevada than slots and show girls.
More information and to book: Las Vegas hotels
3. Los Angeles, California
Days spent strolling along Venice Beach, checking out the city's huge array of galleries or indulging in a little star spotting along Hollywood Boulevard are just par for the course in LA and if you're looking for a city break on the west coast then this is where it's at. No matter where you turn in the City of Angels you'll be reminded of some kind of movie starlet or another with the likes of Mulholland Drive, the Hollywood sign and Sunset Strip all adding to the experience. The hills above Sunset are pitted with celebrity homes and if you're hoping that some of the lifestyles of the rich and famous will rub off then a guided tour will show you what you're missing. Rodeo Drive, the Walk of Fame and the newly-converted IMAX TCL Chinese theatre are all well worth a visit on a city break however, sometimes it's just sitting and watching the weird and wonderful world walk by that makes for the most rewarding of things to do.
More information and to book: Los Angeles hotels
2. San Francisco, California
From the moment you catch your first glimpse of those magnificent russet coloured arches, you'll begin to understand why city breaks in San Francisco have got class written all over them. This city has got more fabulous things to do than you'd ever dare to dream of and an early start to watch the mist drift across the bay is definitely a must for photographers and California dreamers. Once the day breaks you'll get to jump on-board a tram and ride the craziest streets on the planet that often feel more like a trip on the ocean as opposed to crossing terra firma. Dim sum in Chinatown, window shopping on Filmore Street and barking with the sea lions on Fisherman's Wharf, a day spent in San Francisco is always going to be a bumpy ride so just hold on tight and see where the mood takes you. Modern art museums, characterful neighbourhoods and ferry rides to Alcatraz are all awesome options and once the night falls you'll be treated to a fast-paced scene that will keep you up until the wee small hours with North Beach always a great place to kick things off.
More information and to book: San Francisco hotels
1. New York City, New York State
Without a doubt, the most popular and, arguably, the most worthwhile city break destination in America has to be the east coast's finest: NYC. Packed full of iconic landmarks, such as: the Empire State Building, the Statue of Liberty and the towering billboards of Times Square, this is just about as good as it gets and if you're thinking about sightseeing potential then you really will be spoiled for choice. Getting around is pretty straightforward and once you realise that several of the main streets actually continue in a straight line until you get to the ocean then you'll soon begin to get the hang of things. Central Park, the Bronx Zoo and the board-walks of Coney Island all make for great ideas when the sun's out with the Guggenheim, the Met and the Whitney all making for excellent undercover alternatives on a rainy day. If you're looking for pizza then head to Brooklyn, if it's show time then stick to Manhattan or if you're just seeing where the night will take you then New York City has some of the best dance floors, cocktail bars, comedy clubs and jazz joints to ensure you'll never want to sleep again.
More information and to book: New York hotels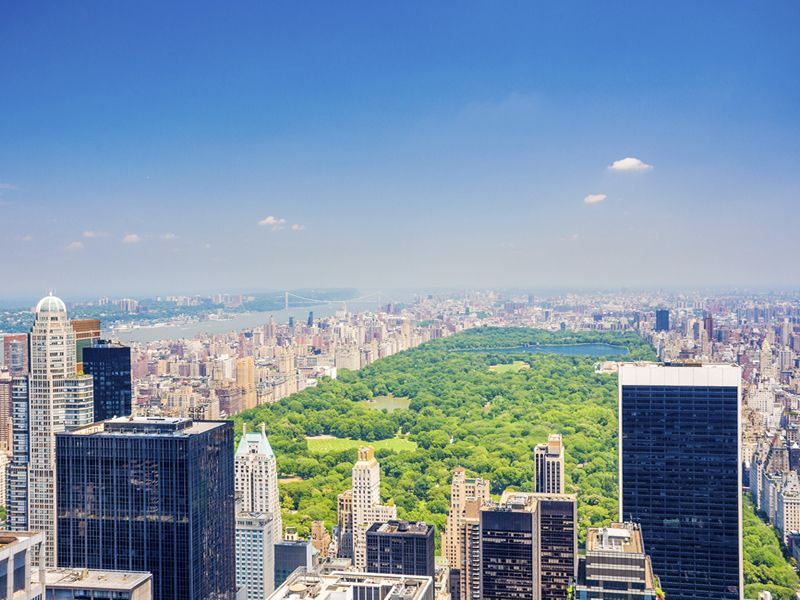 ---